Why Does Paypal Ban Dropshipping Stores
Paypal is one of the leading payment gateways that makes sending and receiving money globally accessible. So, to answer the question, why does PayPal ban dropshipping stores?
Paypal is used mainly by individuals and business owners with online businesses or personal affairs that require online transactions.
It is a secure and reliable payment solution that makes it easier and faster for customers to make payments. With PayPal, you can quickly transfer money securely from one account to another without worrying about your personal information being compromised.
You can also set up recurring payments or automate payments so the transaction goes through without hassle.
Plus, PayPal offers excellent customer service and 24/7 online support, so you can rest assured that your customers' payments are safe and secure. With PayPal, customers can feel confident knowing their financial information is safe.
Plus, they'll appreciate the convenience of paying for products or services quickly and easily.
Table of Contents
Dropshipping is the latest innovation in the eCommerce world, and by the looks of things, based on the reviews and online cries, Paypal bans Dropshipping.
Stores and startups are worried about why and how they get past having their money on hold for 180 days, waiting for the period for cash release.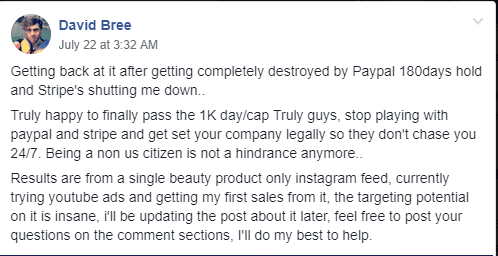 If you have been an active drop shipper, then I believe you are a member of either 2 or 3 dropshipping Facebook groups; at least you've witnessed complaints from members about PayPal having limitations on their accounts or having the cash on hold and then later ban them from using the platform.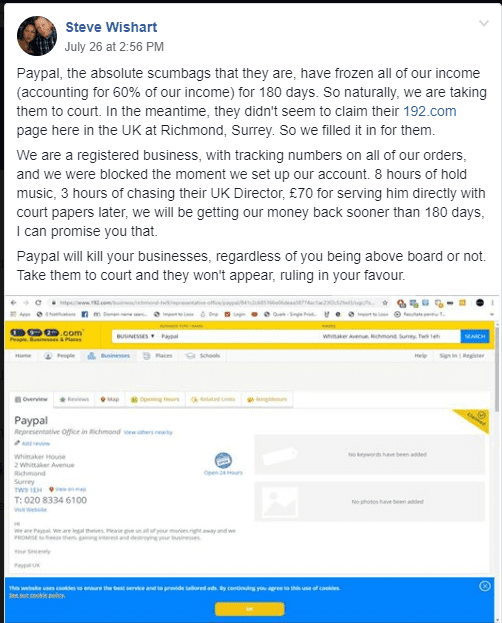 There are many reasons why 95% of dropshipping stores close without testing further. PayPal is one of the biggest reasons people quit Shopify and the dropshipping business in general.
So why does PayPal ban dropshipping stores?
Paypal may ban dropshipping stores for various reasons, such as running a high-risk business, many customer disputes, potential fraudulent activities, violation of PayPal's terms of service, or suspicious payment patterns. Dropshipping store owners must comply with PayPal's policies and ensure transparency and customer satisfaction to avoid such restrictions.
Invalid Tracking Info
As an online business dealing with products, you are categorized by default as an eCommerce by PayPal. They know you are shipping products from your store's warehouse to your customers.
It is only normal for a product shipment to have tracking info designed to help handle disputes and act as delivery proof.
When PayPal notices that you mainly ship your products without updating the shipping information in your account, they start scrutinizing the entire account from your website product types and check for any dispute related to the store.
Unlike the manufacturer in China, you are not dealing with shipping or inventory; hence, you have no control over the process and cannot provide a tracking code.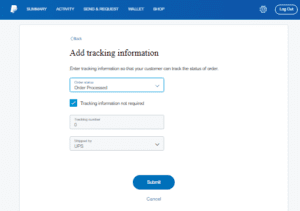 Most stores end up limited by PayPal and can no longer access their cash due to failure to show proof of shipping.
As a dropshipper, you can use auto Paypal tracking code apps, which automatically create tracking codes anytime you get an order; this will help solve the tracking code issue by Paypal.
Lack of Inventory
Paypal hates dropshipping; thus, the hashtag #paypalsucks trends in almost all the dropshipping groups on Facebook. They want you to have inventory and be able to ship products from your warehouse; lack of this only proves you are dropshipping as, of their say, dropshipping is a risky business they don't want involved in.
The reason they usually give "The type of business you are in is risky '; hence, you will no longer be able to use Paypal.
This is because PayPal hates chargebacks and disputes; they want the seller always to win the disputes, but one can't do it without proof of product and tracking info.
They tend to favor shops that sell products they control and can ship from their warehouse besides providing tracking information.
Paypal is making money, and disputes and chargebacks mean losing money; they will do anything to clean their database and remove risk-marked business from their platform.
Disputes
Paypal is keen on how you handle your customers and the quality of the products they are getting. Disputes, chargebacks, or claims are complex to avoid with drop shipping.
This is because you have no control over the quality of the product, shipping duration, and inventory. You will face disputes from customers citing the following;
Products not as described
Broken Products
Products never arrived
Poor quality
If you are poor at customer care and replying to emails is one of your weaknesses, customers will file disputes to get a refund. The standard dispute rate accepted by PayPal is about 2%; when you hit above that, they will have your account on hold or limited permanently or temporarily until the issue is resolved.
This is one of the reasons why PayPal banned dropshipping Stores; you need to consider the time you take to resolve issues and how well you take care of your customers, more so after sales.
You can offer incentives to reduce the disputes in your PayPal account, and it works magic.
Lack Of Documentation
When starting a dropshipping business, you must use a business PayPal account, and the business Paypal account must include your business name (Name of your store or company), business number, and other essential business documents as per their policy.
At some point, when faced with limitations or disputes, they may require you to send the business supporting documents.
In most cases, drop shippers lack these vital papers, the account becomes restricted and later limited, and money is withheld for 180 days.
You must register the company and have legal documents validating your online activities before signing up on PayPal.
Read Also:
Proof of Address
When selling online, we live in a world of possibilities; some prefer to use other's details and lie about the business location.
Paypal insists on this; they need to be answerable for tax-related issues, hence the need for every platform user to use their real details and exact locations.
When using PayPal for drop shipping, there is a transaction limit that, when reached, you have to verify certain things like location, identity, and others.
Failure to provide the location and identify proof will have your account banned. Most dropshipping store owners fail to provide this when needed by PayPal, and some also use P.O.BOX addresses on their Paypal, which Paypal can't verify.
Conclusion on Why Does Paypal Ban Dropshipping Stores
Paypal bans dropshipping stores daily on failure to meet the above requirements; it hates the dropshipping business since it is full of disputes and claims. If you wanted to start a dropshipping business in 2019, then make sure you trade carefully on their platforms.
They sometimes limit accounts without apparent reason; some have accused them of extorting cash from well-performing stores by banning them from their platforms.
There have been accusations of PayPal trading with the withheld cash, making a profit, and releasing the initial funds after 180 days.
What do you think are the best PayPal alternatives for dropshipping business owners?
Share your comments below.
Small Request
Kindly share it with your friends. Especially the ones you believe need this information. Sign Up Now and Get your first 3 months for only $1 monthly.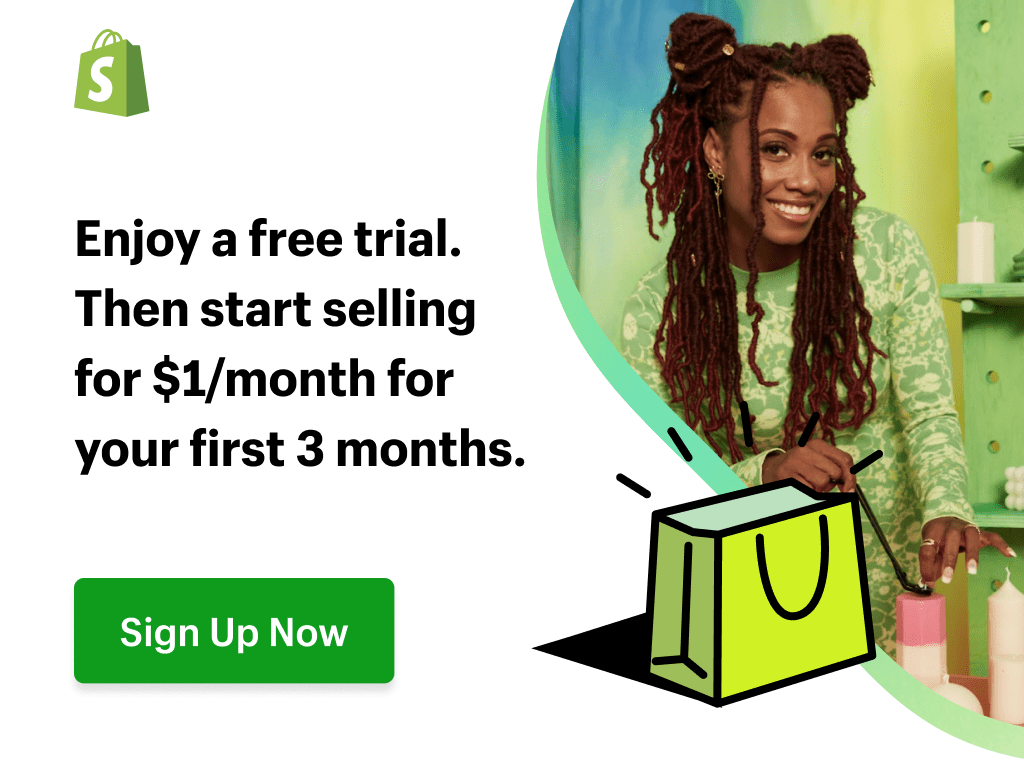 Sharing this information with others can make a huge difference. You may ask why.
Well, the truth is, my main aim is to provide the best information about drop shipping for both beginners and experienced dropshippers.
And I plan to continue doing so for as long as I can.
I would also like to thank those who support my work by reading and sharing my content.
Trust me, when you take your time to share, it will greatly help me and others who need this information.
Here are some great suggestions:
Pin it
Share it on another blog.
Share on Facebook (Share it with friends and even on Facebook groups)
Tweet it
Stumble it
This will only take a few seconds of your time, and I would appreciate it.
I appreciate you a lot. Thank you!
Join my Shopify dropshipping group mastermind and follow my blog to learn more about Shopify tips, dropshipping guides, tricks and checklists, and e-commerce in general.
If you enjoyed and learned something from this post, you can get me updates for free!
I send out email newsletters about new blog posts, tips, and tricks to help you grow your dropshipping business, new YouTube videos to give you more insights into the e-commerce market, and much more.
If you enjoyed reading this, you could also join my Facebook group. Thank you for reading how to make money dropshipping online from the comfort of your home.
Click here to Join My Facebook Mastermind Group