The Easiest Way to Start Dropshipping With $200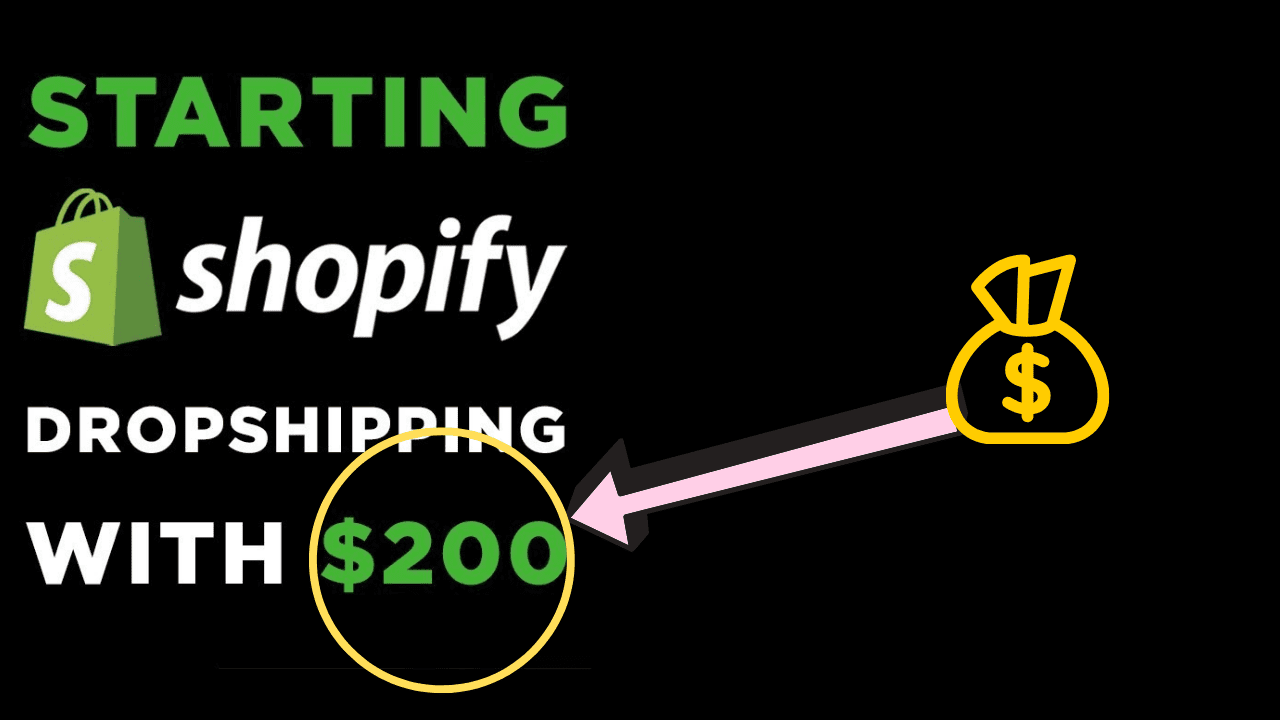 Is it possible to start dropshipping with $200 From Scratch?
In most cases, start-up gives up before even starting their dropshipping journey, because of the capital required to start and run the business. Today, I share how you can Start Dropshipping With $200  following my dropshipping strategies am about to unleash free of charge to you.
Starting a dropshipping business requires capital, some would say above $2000 in order to be successful in this venture, you require money to run advertisements, fulfilling orders, designing the store, paying for apps and general management tasks that require cash.
The good news is, you don't have to do all that, if you only have $200 you can as well start a dropshipping store on Shopify, and pave your way up as you learn on saving and working smart.
There are many Shopify stores that closed due to lack of funds to manage and run marketing, others couldn't keep up with the pressure that comes with it, this is why 95% of Shopify stores close without making sales.
Starting From Scratch Budget Breakdown
Since you love dropshipping and you are desperate to start and make some sales with a low budget, then these strategies should apply in your situation. We are going to spend the $200 wisely until you make sales that will enable you to scale your eCommerce business.
From the working capital of $200, we are left with around $150 in our credit card, now you can decide to have your domain name bought from other domain name providers which may be cheaper than on Shopify. Then you can later add it to your existing stores through the DNS setting of your host.
At this stage, I assume you have your store already designed using one of the free Shopify themes offered on their platforms, the store must have a logo which of course you can design free of charge using canva or any other free logo tool on the internet.
You are required to only install free Shopify apps that are essential to your store, when the shop is flooded with apps it tends to slow down the performance and also some pop-up apps make it hard for customers to navigate the shop.
So only install apps that you need at the beginner stage,Oberlo app is a must-have, it the app you are going to use to import products from AliExpress after you've identified the niche you want to start with.
The store should have the following:
Menus (features your product collections and navigation)
Pages (about us, privacy policy, terms of use, refund policy, FAQs and shipping page)
Homepage set up (includes graphics and set up)
Finding your dropshipping Product
There are various ways to finding hot selling products, if you want to go the Ecom hunt or niche scraper way, you welcome but remember your budget won't allow you to do that. There are other free-ways of finding a good product which we won't really look into, like searching them on facebook using terms like 'Get yours here, free shipping".
You can find good products on facebook but for a product to gain traction on Facebook feeds through ads, it only means the cash the store owners have pumped into the ads, hence you must really have a huge budget to try selling a product that has trended on Facebook.
So what do we do?
Use of Instagram
In our case of how to start a dropshipping with $200, the best and effective way of finding our product would be through Instagram explorer. It is easy to find a product on Instagram since store owners use Instagram influencers to expose their product to the right audience.
When you hit the explore page and found or seen an ad of a similar product at least 5 times, then you must stop what you are doing and start looking into it.
When there a number of Instagram influencers promoting the same product it only means the product is doing well.
A store owner would only repeat one Instagram influencers if they are getting sales. When this happens it only proves that the product is hot and you can make a sale off it.
So, when you head over to the explorer page on your Instagram you will see posts, ads and Instagram Tv content presented to you, the data you have access to is based on your cookies and browsing habits. So if you like searching for certain keywords or products then you can only be seeing the same and related keywords.
After you've found the product, head over to google trends to see the data it presents in the last 12 months, if the graph is rising, it only means you can look for the product and add it to the shop.
Pet Pooper scooper has been on my feeds and Instagram explorer of late, I have seen the ads from influencers at least 6 times. Today, I am using this product as an example.
So here are the google trend search in the USA for the last 12 months. From here you can either decide to try the product or keep looking for others.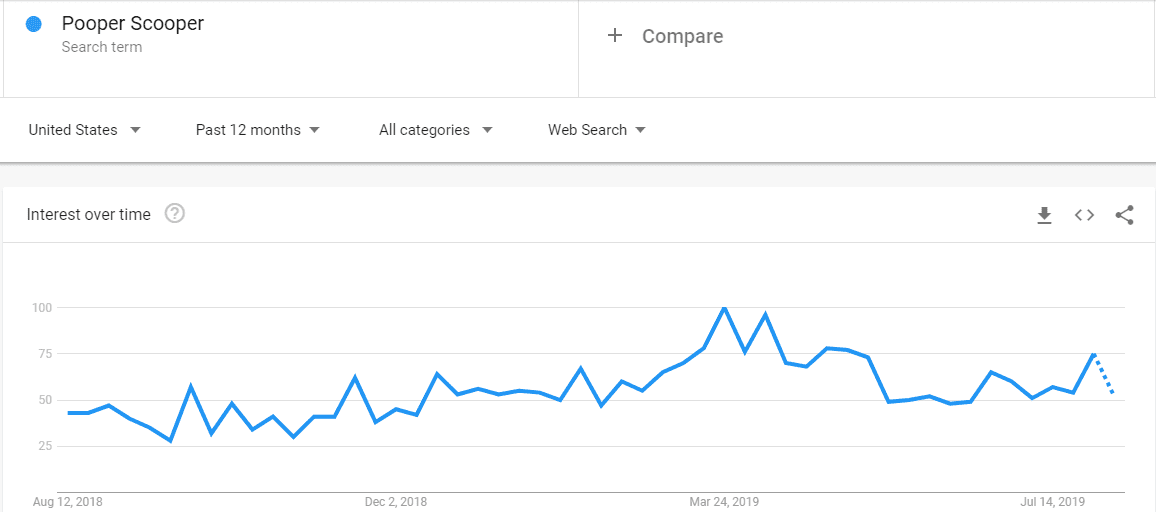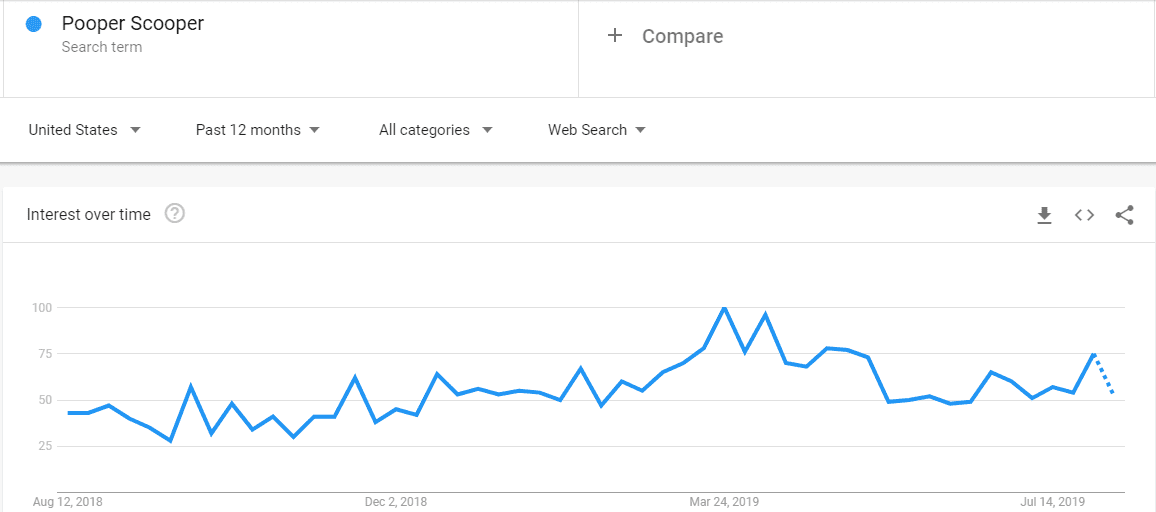 The same applies to Aliexpress, check up the product, focus on the number of orders furthermore copy and paste the product link, head over to dropshipping center and check if it is hot or not.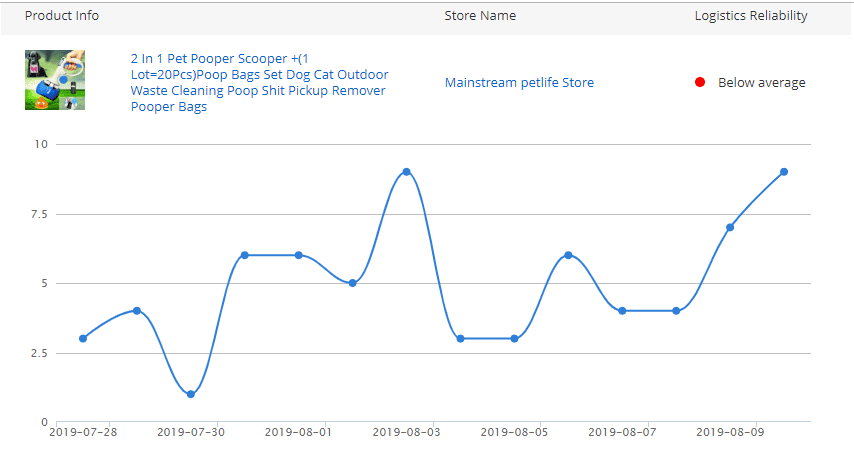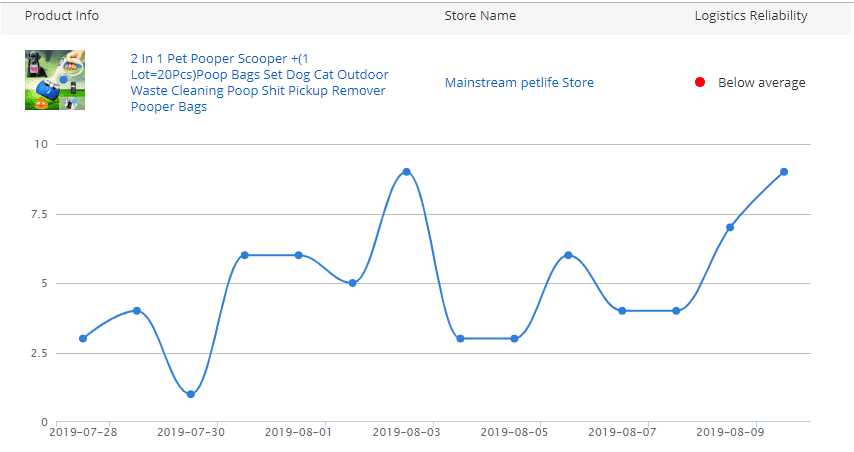 Now that you've identified a product you want to sell, it is time to build the store and set things running for you, remember we still on a low budget of $200, so everything we do must not involve money or pay for any other thing that was not part of the plan.
Building the store
We are going to build a one store product, you may ask yourself why? With this kind of store, you get time to focus on what works and kill what doesn't work for your store. Since we are on a low budget we need to put all our focus on one thing in order to be successful.
A one-product store works magic if you have a good product and a unique marketing approach. In this case, you've already learned how to create a Shopify store.
Then let's add our product using Oberlo,make sure to have looked for stores selling the same product, probably the one you saw on Instagram, don't try to re-invent the wheels, just duplicate everything the way theirs is, but edit to suit your store brand and uniqueness.
Start Dropshipping With $ 200: Product Marketing
As earlier stated when I started this post, we are going to deal purely with Instagram, we've already found a product on Instagram, now its time to launch our ad campaign.
Instead of using facebook ads for our product marketing, we switch gears to Instagram influencers. The reason we want to use them, simply because we are on a budget that won't make us any sell on facebook. The pint most drop shippers go wrong is starting their marketing on facebook yet they are on a low-budget.
The next task would be to find influencers in the niche we are trying to promote. The influencer must have at least 50-200k followers.
You don't want to go looking for influencers with 900k followers, the more followers they have the high their rates. It is highly advisable to go for influencers with no marketing posts, the clean account which hasn't marketed anything at all.
When we do this, we stand high chances of conversions, users tend to ignore ads more so if account constantly posts ads and promotions, unlike a new account with followers who haven't seen an ad from them. They will likely convert or take action.
The low followers' account must be engaging on the said account, your budget for promotion must not be more than 20$ per post of 12 hours.
Now if this is done successfully, with conversions then you can negotiate a long term arrangement with the influencer. Meanwhile, you are allowed to browse around Instagram to find look alike influencer for the said product.
Conclusion:
When you do the above and got sales, then you can rinse and repeat, find new influencers within the niche you are in, negotiate better rates, run promotions and see results. If conversions increases and sales coming in crazily, look for influencers with huge followers, try and see if you can afford it, hire them and run the promotions.
When you hit $2000-3000$ in profit, then you can start facebook advertisement using the data gathered by pixels for Instagram activities and lookalike audiences (LAAs).
One thing though, always ensure that the product image or video you are promoting has no copyright issues. It is wise to create your own video ads or edit the existing ones, just in case they may have issues using their copyright marketing materials.
Now, this brings us to the end of how you can Start Dropshipping With $200, it is now clear that you have no excuse for not starting a dropshipping store on Shopify.
All you have to do is to sign up on Shopify for a 14 days free trial and start your dropshipping journey. If stuck, I am here to help you go through it, just ask and help will come your way.
Do you have any questions in regard to the above topic? let me know in the comment below. Kindly share this article and subscribe to my mailing list.
Sharing is the new swag.